LOUIS TOMLINSON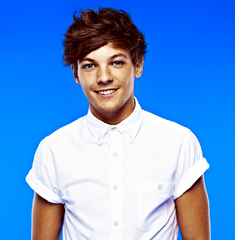 Louisomlinson

Information
Full name

Louis William Tomlinson

Born

December 24, 1991 (age 20)

Hometown

Doncaster, South Yorkshire

Nickname

Lou, Tommo, Boobear

Resides

North London, England

Family

Troy Austin, father
Jay Tomlinson, mother
Mark Tomlinson, stepfather
Georgia Austin, half-sister
Charlotte Tomlinson, half-sister
Félicité Tomlinson, half-sister
Daisy Tomlinson, half-sister
Phoebe Tomlinson, half-sister

Romances
Louis was born in
Doncaster
,
South Yorkshire
, England to Troy and Johanna. His parents split up when Louis was young. When his mother remarried, Louis took on his stepdad Mark Tomlinson's name.
[1]
He has five younger sisters; Charlotte, Félicité, and twins Daisy and Phoebe. Mark and Jay divorced in 2011.
He was a sixth form student at
Hall Cross School
, a state comprehensive school and previously a pupil at
The Hayfield School
. While he was a student at Hall Cross, Louis starred in several musical productions.
Main article: One Direction History
Louis auditioned for
The X Factor
with "Hey There Delilah" by Plain White T's. He received three votes out of the three judges present, and was sent to Bootcamp. At Bootcamp, he sang Bob Dylan's "Make You Feel My Love" before being rejected, and put into One Direction.
Following
The X Factor
, One Direction signed a record contract with Sony Music subsidiary Syco Music. They released their studio album,
Up All Night
.
Relationships
Louis dated his high school girlfriend, Hannah Walker, throughout his time on The X Factor.
After their split, he began dating Manchester University student,
Eleanor Calder
, in late 2011. They celebrated their one year anniversary on November 17, 2012.